Note: National Association of Realtors® (NAR) data shown for May is based on March data.
Sales of existing homes ramped up in March to the briskest pace in more than a decade, according to the National Association of Realtors® (NAR), while significant supply shortages caused the typical home to come off the market faster than in February or a year ago. The West was the only region with a decline in sales activity in March.

Total existing-home sales (transactions for single-family homes, townhomes, condominiums and co-ops) grew 4.4% to a seasonally adjusted annual rate of 5.71 million in March from 5.47 million in February. March's sales velocity is 5.9% higher than one year ago and eclipses January as the best month of sales since February 2007 (5.79 million).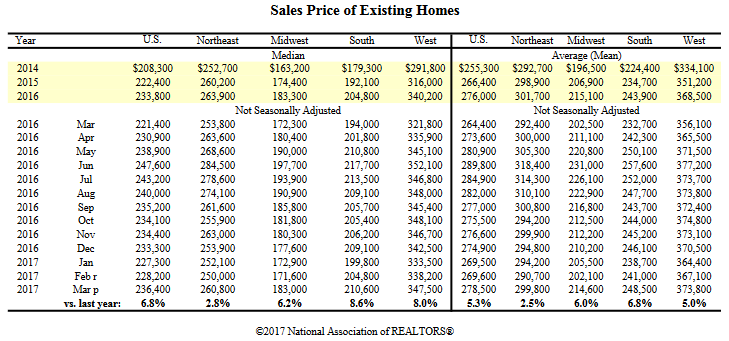 NAR's chief economist, Lawrence Yun, said that existing sales came back strongly in March, led by sizable gains in the Northeast and Midwest. "The early returns so far this spring buying season look very promising as a rising number of households dipped their toes into the market and were successfully able to close on a home last month," Yun said.

Housing Data Takeaways
March's median price for existing U.S. homes (all types) was $236,400, up 6.8% from last year ($221,400). March's price increase represents year-over-year growth for the 61st straight month.




Total national housing inventory by the end of March lifted 5.8% to 1.83 million existing homes available for sale, but remains 6.6% lower than a year ago (1.96 million) and has dropped year-over-year for 22 consecutive months. There is a 3.8-month supply of unsold inventory at the current sales velocity.




Nationally, properties typically stayed on the market for 34 days in March, down considerably from 45 days in February and 47 days a year ago.




Freddie Mac data indicates that the average commitment rate for a 30-year, conventional, fixed-rate mortgage grew for a fifth consecutive month in March to 4.20% from 4.17% in February. For 2016, the average commitment rate was 3.65%.




First-time buyers drove 32 percent of March's sales, unchanged from February and up from 30% a year ago. First-time buyers represented 35% of sales in 2016.